A Guide to Exploring Salt Lake City with Easirent
Thursday 19th October 2023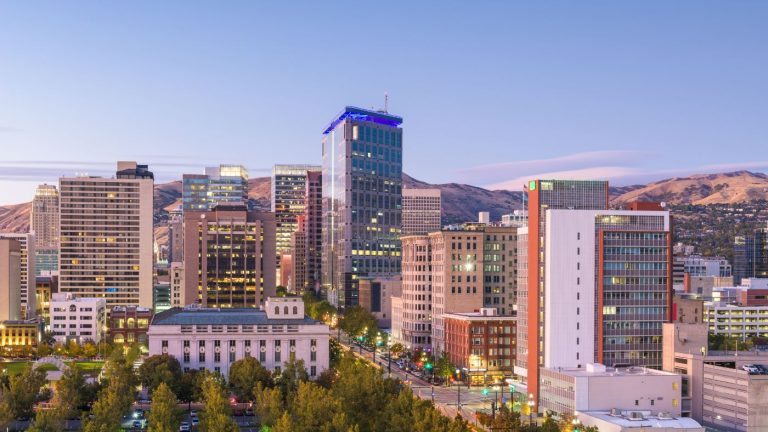 Welcome to the ultimate guide to experiencing the vibrant and picturesque city of Salt Lake City with Easirent, your trusted car rental partner. Whether you're a seasoned traveler or a first-time visitor, Salt Lake City has something special to offer every type of explorer. Our new branch, Easirent Salt Lake City, is your gateway to a world of adventure and discovery in this breathtaking locale. In this comprehensive guide, we'll walk you through the city's must-visit attractions, the convenience of our car rental services, and all the insider tips you need to make the most of your journey. With Easirent, your Salt Lake City adventure starts here – let's hit the road and explore this extraordinary destination together.
Why Salt Lake City Is a Must-Visit Destination
Nestled in the heart of the stunning Rocky Mountains, Salt Lake City beckons travelers from around the world with its unique blend of natural beauty, rich history, and a vibrant urban atmosphere. This city, known for its breathtaking mountain landscapes, is an outdoor enthusiast's paradise, offering year-round adventures such as hiking, skiing, and mountain biking. But Salt Lake City isn't just a haven for nature lovers; it's also a hub of culture and history, with a thriving arts scene, fascinating museums, and a vibrant food culture. The iconic Temple Square, home to the striking Salt Lake City Temple, stands as a testament to the city's religious heritage. With its friendly locals and a wide range of activities, from exploring the Great Salt Lake to experiencing the local music and arts scene, Salt Lake City offers a well-rounded travel experience that's both unique and unforgettable. Whether you're drawn to the great outdoors or the cultural riches of the city, Salt Lake City promises an adventure like no other.
Our Top Picks for Rental Cars in Salt Lake City
At Easirent Salt Lake City, we understand that every traveler has unique needs and preferences when it comes to rental cars. That's why we offer a diverse and well-maintained fleet to cater to all your transportation requirements. Whether you're planning a solo adventure, a family vacation, or a business trip, we have the perfect vehicle for you. Our options include fuel-efficient and budget-friendly economy cars, ideal for those looking to maximize savings without compromising on comfort. For those seeking a bit more space and versatility, our selection of mid-size cars offers an excellent balance of size and efficiency. If you're planning to explore the rugged terrain or travel with a group, our SUVs are the perfect choice, providing ample space and all-terrain capability. And for those who want to indulge in a touch of luxury, we have a range of high-end vehicles that redefine the concept of comfort and style. No matter your choice, our rental cars are designed to make your Salt Lake City journey a seamless and enjoyable experience.
When you rent with Easirent, you're choosing more than just a car; you're choosing a hassle-free travel experience. We take pride in offering our customers some of the most competitive pricing in the industry, ensuring that you get the best value for your budget. Our flexible rental terms are designed to adapt to your schedule, whether you need a vehicle for a day, a week, or longer. And when it comes to customer service, our dedicated team is here to make your journey as smooth as possible. We're committed to your satisfaction, offering personalized assistance and support throughout your rental period. At Easirent, it's not just about renting a car; it's about enjoying peace of mind and convenience on your Salt Lake City adventure.
Navigating Salt Lake City
Navigating Salt Lake City is a delightful journey in itself, offering a harmonious blend of organized city streets and the untamed beauty of the surrounding mountains. While the city layout is relatively straightforward, it's the ever-present backdrop of the Wasatch Range that adds a pinch of wonder to your travels. With its clear grid system, you'll find it easy to get around, and landmarks like the towering Salt Lake Temple can serve as your compass. Don't forget to download a navigation app to help you steer through the city's ever-changing weather conditions and to uncover hidden gems off the beaten path. And when you're ready to escape the urban hustle, just set your sights on the mountains to the east – your gateway to adventure, waiting to be explored.
Weather Awareness: Salt Lake City experiences a range of weather conditions, from heavy snowfall in winter to warm summers. Be prepared for changing weather, and always check road conditions and forecasts before setting out. In winter, equip your rental car with snow tires or chains.
Altitude Awareness: Salt Lake City is situated at a high altitude, and some people may experience altitude sickness. Stay hydrated, take it easy on your first day in the city, and be cautious if you have any medical conditions aggravated by high altitudes.
Parking: Be aware of parking regulations and fees. Many attractions offer paid parking, and street parking may have time limits or metered fees. Ensure you're parked legally to avoid fines.
Safety: Adhere to traffic laws, including seatbelt usage and speed limits. Salt Lake City has a strong law enforcement presence, so obey the rules of the road to ensure a safe and enjoyable trip.
Pedestrian and Cyclist Awareness: Salt Lake City is known for its pedestrian-friendly areas and bike lanes. Be attentive to pedestrians and cyclists, especially in downtown areas, and yield the right of way when necessary.
Local Advice: Don't hesitate to ask locals for tips or directions. Salt Lake City residents are known for their friendliness and willingness to help visitors.
Top Tourist Attractions to Visit with Your Rental Car
Temple Square: The iconic heart of the city, Temple Square is home to the Salt Lake Temple, the Assembly Hall, and the Tabernacle. It's a place of religious and architectural significance and offers beautiful gardens for a peaceful stroll.
Utah State Capitol: Perched on Capitol Hill, this neoclassical building provides a panoramic view of the city and the surrounding mountains. Explore the capitol's grand interiors and the Liberty Park nearby.
Antelope Island State Park: Drive to Antelope Island, a unique natural park within the Great Salt Lake. You can spot wildlife like bison and antelope and enjoy hiking, picnicking, and swimming on the island's beautiful beaches.
Great Salt Lake: Visit the Great Salt Lake, the largest saltwater lake in the Western Hemisphere. Take a scenic drive along the Antelope Island Causeway, where you'll witness stunning views and unique landscapes.
Hogle Zoo: Located in Emigration Canyon, Hogle Zoo is a fun and educational destination for the whole family. Your rental car provides a convenient way to get there and explore the wide variety of animals and exhibits.
Red Butte Garden and Arboretum: This botanical garden features an array of beautiful plants and is known for its scenic trails and outdoor concerts. Drive to the garden for a relaxing day in nature.
Tracy Aviary: Located in Liberty Park, the Tracy Aviary is a haven for bird enthusiasts. It's a short drive from downtown and offers a diverse collection of exotic and native birds.
The Leonardo Museum: Explore the world of science, technology, and art at The Leonardo Museum. With your rental car, you can easily reach this engaging museum and experience hands-on exhibits.
Olympic Cauldron Park: Discover the legacy of the 2002 Winter Olympics at this park, which features the iconic Olympic cauldron and a variety of interactive displays.
City and County Building: Admire the architecture of the Salt Lake City and County Building, particularly beautiful during the holiday season when it's adorned with festive lights.
Big Cottonwood Canyon: A short drive from the city takes you to Big Cottonwood Canyon, a paradise for outdoor enthusiasts. Enjoy hiking, skiing, and rock climbing in this breathtaking canyon.
Park City: Drive to Park City, a charming mountain town known for its ski resorts, art galleries, and vibrant Main Street. It's an ideal day trip from Salt Lake City.
Scenic Drives and Day Trips
Salt Lake City serves as a gateway to some of the most captivating scenic drives and day trips in the region. Begin your adventure by embarking on the Alpine Loop Scenic Byway, a winding road that takes you through picturesque canyons and past lush forests, with opportunities for hiking and picnicking along the way. Another must-do journey is Little Cottonwood Canyon, a route that leads to the world-renowned Alta and Snowbird ski resorts, as well as breathtaking alpine landscapes. For a taste of natural wonder, take a day trip to Antelope Island State Park, accessible via a scenic causeway, and discover a surreal world of bison, antelope, and incredible views across the Great Salt Lake.
Insider Tips for a Great Salt Lake City Experience
Here are some of the best Insider tips we've gathered from travel bloggers, local enthusiasts, and Utah natives…
Visit in the Shoulder Seasons: Spring and fall offer pleasant weather and fewer crowds. It's an excellent time to explore the city and its surroundings.
Sample Local Cuisine: Don't miss the opportunity to savor local dishes like "funeral potatoes" and "fry sauce." Venture to local diners for a taste of authentic Utah cuisine.
Biking in the City: Salt Lake City is known for its bike-friendly infrastructure. Rent a bike or use bike-sharing services to explore the city at a leisurely pace.
Ski Utah: If you're visiting in the winter, make sure to take advantage of the world-class skiing and snowboarding resorts within a short drive of the city.
Sunset at Ensign Peak: Hike up to Ensign Peak for a spectacular panoramic view of the city at sunset. It's a local favorite and an ideal spot for photos.
Explore the Art Scene: Salt Lake City boasts a vibrant art scene. Check out galleries and attend art events to get a taste of the local creative culture.
Historic Temple Square Tours: Take a free guided tour of Temple Square to gain insight into the city's religious history and admire the stunning architecture.
Green Spaces: Enjoy the city's numerous parks and green spaces. Liberty Park is a local favorite with a beautiful lake and picnic areas.
Utah's Craft Beer Scene: Salt Lake City has a burgeoning craft beer scene. Visit local breweries to sample a wide range of unique and flavorful brews.
Local Events: Check for local events, festivals, and live music performances happening during your visit. Salt Lake City hosts a variety of cultural events throughout the year.
Hidden Dining Gems: Seek out local restaurants and eateries beyond the tourist hotspots. You'll discover hidden gems that serve delicious food.
Shopping in Sugar House: Explore the eclectic shops and boutiques in the Sugar House neighborhood for unique shopping experiences.
Bonneville Salt Flats: If you have extra time, take a day trip to the Bonneville Salt Flats, a unique and surreal natural wonder that's a photographer's dream.
Explore Historic Neighborhoods: Wander through historic neighborhoods like The Avenues and 9th & 9th to admire the charming architecture and find quaint shops and cafes
Booking Your Car Rental in Salt Lake City
To kickstart your Salt Lake City adventure with Easirent, booking your rental car is a breeze. Visit our user-friendly website and enter your travel dates and preferences, including the type of vehicle that suits your needs. Our online reservation system will instantly provide you with available options and competitive pricing. Alternatively, you can contact our Reservations team directly, and our friendly and knowledgeable staff will assist you in finding the perfect vehicle for your journey. We're committed to making your car rental experience easy and hassle-free, ensuring that your exploration of Salt Lake City is as seamless as possible.
Salt Lake City, with its blend of natural wonders, cultural treasures, and vibrant city life, offers an unforgettable journey for every traveler. Easirent is your trusted partner in unlocking the full potential of this enchanting destination. From our diverse range of rental cars, including economy, mid-size, SUVs, and luxury options, to insider tips for exploring the city like a local, we've provided the keys to a remarkable Salt Lake City experience. Whether you're embarking on scenic drives, delving into the city's rich history, or enjoying the splendor of its surroundings, Easirent ensures your adventure is both comfortable and memorable. Booking your rental car is a straightforward process, whether you choose our website or connect with our dedicated staff at our Salt Lake City branch. So, let's make your Salt Lake City journey one for the books – with Easirent, every road leads to discovery.