Soak Up The Sun: Beach Escapes and Coastal Retreats in North Carolina
Thursday 5th October 2023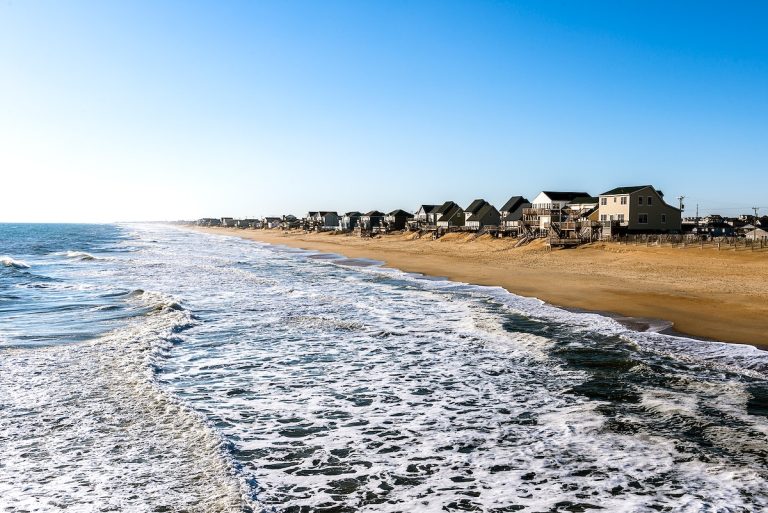 Welcome to the coastal paradise of North Carolina, where sun-kissed shores, gentle ocean breezes, and the soothing rhythm of the waves await your arrival. From hidden coves to bustling beach towns, North Carolina offers an array of beach escapes and coastal retreats that will transport you to a world of relaxation and natural beauty. Whether you seek the excitement of water sports, the tranquility of secluded beaches, or the charm of coastal communities, this diverse state has something for everyone. Join us as we embark on a journey along North Carolina's stunning coastline, uncovering the best beach destinations and coastal gems that will make your seaside getaway an unforgettable experience. So grab your sunscreen, dust off your flip-flops, and get ready to soak up the sun in the enticing beach escapes of North Carolina.
Wrightsville Beach: A Tropical Oasis on the East Coast
Nestled just outside Wilmington, Wrightsville Beach beckons with its pristine sandy shores and crystal-clear turquoise waters. This coastal gem offers a tropical oasis atmosphere, complete with palm trees swaying in the breeze and a lively beach scene. Whether you're lounging on the beach, trying your hand at surfing, or embarking on a leisurely paddleboarding adventure along the Intracoastal Waterway, Wrightsville Beach offers the perfect blend of relaxation and exhilaration. Explore the vibrant local dining scene, indulge in fresh seafood, or simply unwind while savoring breathtaking sunsets over the water. With its idyllic setting and endless outdoor activities, Wrightsville Beach is a beach lover's paradise.
Outer Banks: A Coastal Wonderland of Natural Beauty
Stretching along North Carolina's northeastern coast, the Outer Banks is a treasure trove of natural wonders and rich maritime history. This string of barrier islands boasts expansive beaches, towering sand dunes, and fascinating coastal ecosystems. Explore the iconic Cape Hatteras National Seashore, visit the historic lighthouses that dot the landscape, or embark on a wild horse tour in Corolla. The Outer Banks also offers a myriad of water sports, including fishing, kayaking, and kiteboarding. For history buffs, the area is steeped in captivating stories of shipwrecks and pirate legends. With its unspoiled landscapes and captivating charm, the Outer Banks provides a coastal retreat that is both awe-inspiring and educational.
Topsail Island: Serenity and Seclusion at its Finest
For those seeking a quieter beach escape, Topsail Island offers a tranquil haven away from the crowds. Located between Wilmington and Jacksonville, this barrier island exudes a laid-back atmosphere and natural beauty. Here, you can find your own secluded stretch of beach to unwind and listen to the gentle lapping of waves. Topsail Island is also renowned for its remarkable sea turtle nesting season, providing opportunities to witness the fascinating process of these ancient creatures laying their eggs. Whether you spend your days beachcombing for seashells, casting a line for surf fishing, or simply relishing the solitude, Topsail Island offers serenity and seclusion at its finest.
Crystal Coast: Where Nature Meets Coastal Charm
The Crystal Coast, encompassing the communities of Beaufort, Morehead City, and Emerald Isle, is a coastal retreat that seamlessly blends natural splendor with quaint seaside charm. Explore the picturesque town of Beaufort, where you can stroll along historic waterfront streets lined with pastel-colored cottages and enjoy fresh seafood from local restaurants. Discover the Crystal Coast's crown jewel, Shackleford Banks, home to a population of wild horses. Spend your days sunbathing on the pristine beaches, snorkeling in the crystal-clear waters, or exploring the underwater world through scuba diving or snorkeling. With its unspoiled landscapes, friendly coastal communities, and abundant wildlife, the Crystal Coast offers a coastal escape that captures the essence of North Carolina's coastal allure.
Sunset Beach: Unwind and Rejuvenate in Tranquil Serenity
Tucked away on the southernmost corner of North Carolina's coastline, Sunset Beach offers a slice of paradise known for its unspoiled beauty and laid-back vibe. As the name suggests, Sunset Beach is renowned for its breathtaking sunsets that paint the sky with a palette of vibrant hues. Take leisurely walks along the soft sandy shores, explore the serene marshes teeming with wildlife, or play a round of golf on the area's renowned courses. The Bird Island Reserve, located at the western tip of the island, is a haven for birdwatchers and nature enthusiasts. Sunset Beach is a destination where you can truly unwind and rejuvenate in tranquil serenity, embracing the coastal lifestyle at its most peaceful.
Each of these coastal retreats in North Carolina offers a unique experience, from vibrant beach scenes to secluded getaways. Whether you seek adventure, relaxation, or a combination of both, North Carolina's beach escapes are waiting to provide you with an unforgettable coastal retreat.
As you daydream about the sun-kissed shores and coastal retreats of North Carolina, don't forget the convenience and freedom that a reliable car rental can offer. Easirent US is your trusted companion for exploring the stunning beach destinations and hidden coastal gems of the state. With their affordable and dependable car rental services in Charlotte, NC, you can seamlessly embark on your beach adventure, hopping from one picturesque coastal town to another, discovering the hidden coves and scenic routes that make North Carolina's coastline truly special. From the vibrant energy of Wrightsville Beach to the tranquil serenity of Sunset Beach, having a rental car from Easirent US ensures that you have the flexibility to soak up the sun and make the most of your coastal escape. So, book your car rental with Easirent US and get ready to embark on a memorable journey along North Carolina's captivating coastline, where the magic of the beach awaits your arrival.
Not into beaches? Try our guide to North Carolina's Hidden Gems