Texas Road Trip Bucket List: Must-Visit Destinations
Thursday 5th October 2023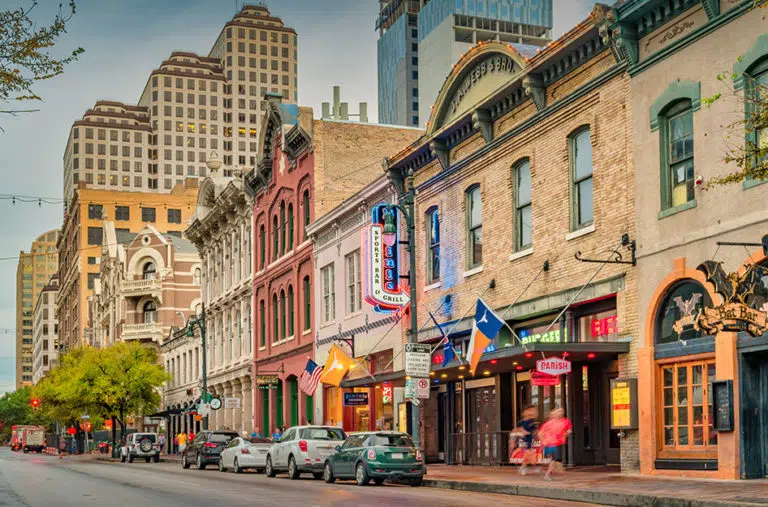 Embarking on a road trip is a thrilling way to explore the vast and diverse state of Texas. From vibrant cities to breathtaking natural wonders, the Lone Star State offers a plethora of must-visit destinations for avid travelers. With our reliable car rental services, you can hit the open road and discover the hidden gems that make Texas a road tripper's paradise. So fasten your seatbelts and get ready to experience the charm and grandeur of Texas with our Texas Road Trip Bucket List.
Austin – The Live Music Capital of the World
Kickstart your journey in Austin, the vibrant and eclectic capital of Texas. Known as the "Live Music Capital of the World," Austin offers a thriving music scene with numerous venues showcasing a wide range of genres. Explore the iconic Sixth Street, visit the State Capitol, and take a dip in the Barton Springs Pool. Don't forget to witness the breathtaking sunset from Mount Bonnell, offering panoramic views of the city skyline.
San Antonio – A Blend of History and Culture
Head south to San Antonio, a city rich in history and culture. Visit the iconic Alamo, where a significant battle for Texas independence took place. Take a stroll along the River Walk, lined with charming shops, restaurants, and picturesque landscapes. Indulge in delicious Tex-Mex cuisine and experience the vibrant atmosphere of the Market Square. For thrill-seekers, a visit to Six Flags Fiesta Texas is a must.
Big Bend National Park – A Desert Oasis
Before hitting the road in Texas, take some time to familiarize yourself with the local traffic laws. Speed limits, right-of-way rules, and parking regulations may vary from state to state, so ensure you understand and follow the specific guidelines for Texas. It's also a good idea to familiarize yourself with any toll roads or express lanes you may encounter during your journey.
Galveston – Sun, Sand, and Sea
Make your way to the Gulf Coast and discover the charming island city of Galveston. Known for its beautiful beaches, Galveston offers a perfect blend of relaxation and adventure. Enjoy a day of sunbathing, swimming, or fishing at Stewart Beach or explore the fascinating exhibits at the Galveston Island Historic Pleasure Pier. Don't miss the opportunity to visit Moody Gardens, featuring stunning gardens, an aquarium, and a rainforest pyramid.
Palo Duro Canyon State Park – Texas' Grand Canyon
Head north to Palo Duro Canyon State Park, often referred to as the "Texas Grand Canyon." Marvel at the awe-inspiring beauty of the second-largest canyon in the United States. Hike or bike along the trails that wind through vibrant rock formations and take in the breathtaking views from the canyon rim. Camp under the starlit sky and witness a mesmerizing Texas sunset over the canyon.
Texas is a state that begs to be explored, and a road trip is the perfect way to experience its diverse landscapes, rich history, and vibrant culture. From the bustling streets of Austin to the tranquility of Palo Duro Canyon, each destination on our Texas Road Trip Bucket List offers a unique experience. With our car rental services, you can create unforgettable memories and embark on an adventure that will leave you with a deep appreciation for the Lone Star State. So, pack your bags, hit the road, and let the wonders of Texas unfold before you. Happy road tripping!
As you plan your Texas road trip, choosing the right car rental service is essential to ensure a seamless and enjoyable journey. Our Texas car rental branches offer a wide range of vehicles to suit your needs, whether you're traveling solo, with friends, or with your family. With our commitment to excellent customer service, well-maintained vehicles, and competitive rates, we strive to make your road trip experience unforgettable. So, why settle for anything less? Rent from our Texas car rental branches and embark on a road trip adventure filled with exploration, discovery, and lifelong memories. Let us be your trusted partner as you hit the road to uncover the wonders of Texas. Start your engines and let the journey begin!